California is a really long state. In the north-south direction, drivers traditionally traverse the state on either U.S. 101 or Interstate 5. Highway 101 is more picturesque, going through seaside towns and redwood forests and boasting gorgeous coastal scenery and mild weather. It's also slower. Travelers wanting to make haste take I-5, but south past Redding the penalty is long, boring stretches of flat valleys, farmland and orchards that go on forever.
My wife and I have made the drive from Seattle to Los Angeles (and back) several times to visit family, and each time we've taken one of these two routes. Early this month, we drove to L.A. on I-5 in three days over 1,200 miles, not a pace we particularly like. For the trip home, we decided to change things around and take our time on the overlooked easternmost route astride the Sierra Nevada Mountains on U.S. 395. We'd view it as a road trip instead of a way home. Maybe drivers avoid this highway because it crosses desert environments with very few towns along the way. Never before have we taken this way home, previously only having gone as far north as Mammoth Mountain to ski when we lived in L.A. many years ago.
This post is about the drive home, an eye-opener for me that made me rethink future road trips to and from Southern California. There are no big California cities on 395. Reno in Nevada comes closest. It's an epic drive that the Sierra Nevadas dominate, but also skirts the highest (Mt. Whitney) and lowest (Badwater Basin) points in the continental U.S. We drove nearly the entire length of Highway 395 through California, from Victorville in Riverside County in the south to Susanville close to the Oregon state line, including the brief portion into Nevada, a drive of 500 miles.
I love road trips. The freedom it gives to stop anywhere, anytime, to do some exploring and get surprised by new places and environments is irresistible. If there's the chance to sample regional food, all the better. As I get older, it's getting harder to sit for long stretches in the car, my back, butt and legs getting punished the most, yet the lure of the road endures. It's fun to do themed road trips, too. The Southwest, for example, which we've done twice already. Or cruise along the American West Coast (U.S. 101). We think it would be fun to do a Route 66 trip from L.A. to Chicago (or vice versa) in the future. Our drive home on U.S. 395 fits the bill.
Joshua Tree National Park
With an interest in desert environments and geology, I was ready to view the journey with different eyes. It started with a visit to Joshua Tree National Park. Though the park is technically not on U.S. 395, it's close enough. The iconic Joshua Tree inhabits and typifies the Mojave Desert which occupies a third of 395 in California and there is no better place to learn about it than the namesake park.
We entered the park from the south through the Cottonwood entrance near Indio. It's surprising how desolate the park is here. The desert environment in the southeastern half of the park is extremely dry and scrubby looking, which is typical of the Colorado (Sonoran) desert. (The park uniquely encompasses both the Colorado and Mojave desert environments.) Simply stopping the car and walking around gave many surprises, including wildflowers that show off brilliant colors. The most prominent plant species is the creosote bush that like most desert plants takes many decades to achieve significant size. The mature evergreen bushes spread out in all directions. I was astonished that they, like their plant co-habitants, thrive in this harsh, almost rainless environment, as little as 4 inches (100mm) per year.
The other "giant" that I recognized was the ocotillo which I saw for the first time in New Mexico. Aside from being the tallest plants around, they look like dead sticks branching up and out from the ground. But, with rain (as I saw at City of Rocks State Park in New Mexico), in short order they magically produce green leaves along the branches and red flowers at their tips, only to die back and wait for another rain.
Teddy bear cholla may evoke warm and fuzzy feelings toward a cactus whose arms look like they belong to teddy bears, but a closer look shows them to be densely packed spines. Woe be to the person who touches them. Their skin will be penetrated by microscopic barbs, excruciatingly painful to remove. I spotted them easily because of their appearance and greater size relative to other cacti. As they get bigger, the lower arms drop off and the trunks darken, looking almost burnt. The way they propagate is also interesting. When pieces fall off, which themselves look like fur balls from a distance, they set root and grow—clones of the original.
Along Pinto Basin Road is the Cholla Cactus Garden that has specimens of great size and density along a 0.25-mile trail.  I was curious what circumstance or environment favored their concentration in this little spot.
Halfway into the park, I entered a mountain range that marks the transition zone between the Colorado and Mojave deserts, which dichotomy is a unique aspect of the park. Almost immediately, there were what looked like gigantic rounded boulders stacked and fitted to each other, like a monolithic jigsaw puzzle. The rectangular joint patterns are a clue that they cracked in place. Over the course of millions of years, the granite chemically weathered underground, the layer above it eroded and the rock exposed. They were everywhere in the park as well as along much of 395.
The campgrounds take wonderful advantage of them, each site nestled right up against massive rocks that provide some privacy and distance from its neighbor, great places for clambering and exploring and furnished with picnic tables and fire pits, but not water. They're very popular every weekend on a first-come, first-served basis. The campgrounds far enough away from the city lights of Twentynine Palms, such as White Tank and Belle, make dark-sky viewing possible almost every night.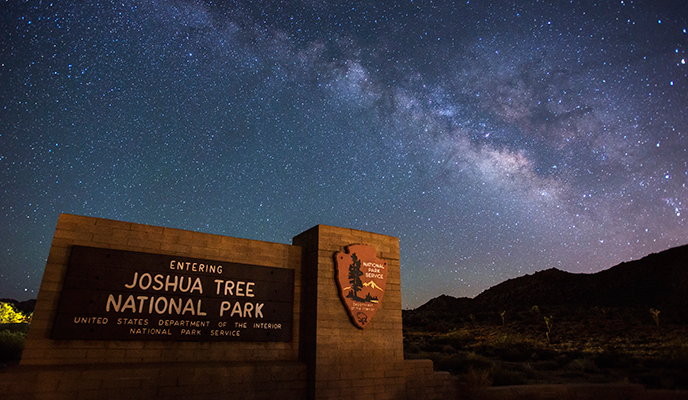 On the other side of the mountains are the famed Joshua trees and the Mojave Desert. These agave family plants are a distinctive feature of the Mojave. They're peculiar looking plants, looking like cheerleaders with pom-poms of blade-like leaves (like its cousin, the yucca). As we drove along the unpaved Queen Valley Road, I saw many Joshuas against a backdrop of strange rock formations. I got an up-close look at this combination on the Barker Dam loop hike.
I saw the last of the Joshua trees around Lone Pine, where the Mojave Desert ends and the Great Basin begins.
Victorville to Lone Pine
From Joshua Tree National Park, we caught U.S. 395 at Victorville, for all intents and purposes the beginning of the highway northbound. (The actual beginning is at the intersection with Interstate 15 in Hesperia, just south of Victorville.) We first drove through Apple Valley, made famous by Roy Rogers and Dale Evans. Highway 18 through town is known as the Happy Trails Highway.
The road to Lone Pine, a distance of about 150 miles, travels over the Mojave desert, infrequently punctuated by small towns. As we continued north, the Joshua trees thinned out. The Sierras began to appear rather quickly, at first smallish at around 1,000ft until they rose to the majestic peaks east of Lone Pine, with Mount Whitney at a staggering 14,500ft. This is the western edge of the so-called Great Basin Desert where a series of mountain ranges are separated by broad, flat valleys. All the watersheds in this enormous area, bordered by the Sierras in the west, eastern Oregon in the north, the Mojave Desert and Colorado Plateau to the south and western Utah in the east, are landlocked and do not drain into any ocean.
Lone Pine is the gateway to Mount Whitney. Climbers who want to scale it can start their adventure here, the shortest route to the summit. We took the Whitney Portal Road to get a closer look at Whitney and the surrounding peaks when we came across the most amazing geologic wonders—formations made of jointed rock, rounded along fractures, massive in size, similar to the rocks we saw at Joshua Tree NP. These are the Alabama Hills, so picturesque that many movies, especially Westerns, have been filmed here. They provide a stark contrast to the jagged Sierras that loom high above them in the distance, yet they are compositionally identical and were formed at the same time. What appear to be rock formations sitting on top of soil are actually the tips of very high, sharp escarpments buried in 10,000ft of sediment. I wished we had time to explore these hills.
Manzanar National Historic Site
Just north of Lone Pine is the Manzanar National Historic Site. It is one of ten 'relocation' centers that incarcerated Japanese Americans after Pearl Harbor. Manzanar held up to 10,000 internees. The environment is tolerable in the best of circumstances, miserable in the worst. The Owens Valley experiences almost constant winds and choking dust storms and the temperatures are frigid in winter, hot in summer. My wife and I revisited the site. The last time we were here was in the 1970s when Japanese American community activists were in the forefront of establishing an annual pilgrimage to Manzanar. The drive to incorporate the site into the National Park system came later. No single individual was more important in these efforts than Sue Kunitomi Embrey.
I was born in Tulelake, another camp in California near the Oregon border. I always resented the term relocation, a euphemism for the forced evacuation and incarceration of a group based solely on race. It was 'justified' on the basis that Americans of Japanese ancestry could harbor loyalties to the Japanese Emperor, therefore posing a presumed security risk during the war. German and Italian Americans were never incarcerated. Activists have insisted on using the term concentration camp, which in essence represents what these camps were, complete with barbed wire fences and guard towers with guns pointed inward. Yet there is the horrible experience of the Jews in Europe, which our imprisonments didn't come close to in scale or barbarity. So, the usage of the term 'concentration camp' is tempered by historical experience.
We arrived on a relatively pleasant day, sunny, a mild breeze blowing. It was surprising how much restoration efforts have recreated a better sense of what Manzanar was like. A three-mile loop road now follows the periphery of the original camp boundaries. Driving around it made me realize historical Manzanar's extent. Three barracks, buildings in which the incarcerees lived and socialized, have been reconstructed, two of them serving as museums with informational displays and replicas of typical living quarters (several families were housed in a large, uninsulated room with no privacy), the other a mess hall.
Throughout the Block 14 area, I noticed markers indicating the siting of all the other buildings, framed by Mount Whitney in the background.
Signage along the loop drive indicates where other buildings were located. Then, there is the most amazing excavation and partial restoration of Merritt Park that was designed and built by internees and came to serve as a community park.
Finally, at the western edge of the site is the cemetery monument (pictured above), constructed as an obelisk, the enduring symbol that Manzanar pilgrimages have gathered around since 1969. We spent a good two hours at Manzanar.
Lone Pine to Bishop
As unique as the Sierra Nevadas are, I was well aware of another, equally high mountain range far to the far east, as if I were driving through a broad corridor. Geologists call this basin and range topography. Basins, instead of being carved out by rivers like valleys, are created when the earth's crust stretches and, through faulting, causes a block of land to collapse (graben), afterward flanked on one side by steep-sided escarpments like the Sierras. Likewise dramatically altering the landscape along here were many earthquakes, including the 7.9-magnitude shaker that destroyed Lone Pine in 1872. At this point, the Owens Valley sits 10,000ft below the Sierras to the west and the White Mountain-Inyo Mountain Ranges to the east.
We stayed overnight in Bishop, one big reason being Eric Schat's Bakkery that is known for its breads and pastries, especially its legendary sheepherder bread, originally introduced by Basque immigrants. My wife's father used to bring the bread home when he came back from fishing trips at Crowley Lake. The shop is much bigger than it was during my father-in-law's day. We were confronted with all sorts of baked goods. Sheepherder bread is only one among many baked goods to buy. On our long road trip, I saw no reason to buy a loaf of bread, so I just got a couple of jalapeño and cheese rolls for breakfast and a roast turkey sandwich, the only one to on the menu to use sheepherder bread, for eating later in the day during our hike.
A series of lakes in the Little Lakes Valley are connected by trail that starts from Rock Creek Lake, accessible via Rock Creek Road from Toms Place. This was going to be our hike for the day. But, it didn't take long before the snow line obscured parts of the trail, especially higher up. So we stopped after an hour's hike, ate our sandwich from Schat's on a rock surrounded by sun and snow and headed back to the car.
Bishop to Lee Vining
Highway 395 from Bishop northward begins its climb into the Sierra Nevadas. Between Bishop and Lee Vining, two large lakes to the east of U.S. 395 are hard to miss. Crowley Lake is one of them, a fishing mecca that draws trout anglers from all over, including my father-in-law many years ago. The lake didn't always exist because Crowley was created in 1941 with the damming of the Owens River over 30 miles north of Bishop. An extensive, environmentally and politically contested aqueduct was built in the early 20th century to provide water to Los Angeles, a project as controversial as the creation of the Hetch Hetchy Reservoir in Yosemite National Park to supply water to the Bay Area.
Mono Lake is a large lake just east of the town of Lee Vining, so enormous in size that it looked to me like the sea from certain vantage points. I was surprised to learn it used to be much larger and deeper. In 1941, the tributaries that fed Mono Lake were diverted to the L.A. aqueduct, reducing the lake's depth by 45 feet and increasing its salinity and alkalinity.
The closure for the season of Devil's Postpile National Monument (and Rainbow Falls), only a short distance past where I used to go skiing (on Mammoth Mountain), prevented us from making a visit.
One of the big attractions in this area are the tufa columns of Mono Lake. With the draw-down of the lake's water, these weird formations became exposed, the most abundant collection on the south shore, formed by the precipitation of calcium-rich freshwater springs and carbonates in the lake. We took the interpretive footpath and marveled at these knobby structures, many towering over us.
Lee Vining is the eastern portal to Yosemite National Park. There is no more spectacular mountain drive in California than Lee Vining Canyon, which winds through the eastern Sierras via Tioga Pass, leading to the park entrance about 11 miles from the 395 junction with Highway 120. I had to be extra careful when rounding the many curves because every turn revealed another breathtaking view carved out by glaciers. It was hard to keep my eyes on the road. We wanted to do some hiking around Tuoluomne Meadows for the day, but the park at these high elevations was still snowed in for the season, so instead we headed straight for Yosemite Valley. This turned out to be a long drive. Olmstead Point along the way just past Tenaya Lake is a terrific place to see the high country and Half Dome.
OK, the park is not precisely along the 395 corridor, just shy of it by about 10 miles, but our chance to revisit Yosemite Falls, Half Dome and El Capitan could not be passed up. We hadn't been to Yosemite in decades. At the base of Lower Yosemite Fall, the spring water flow was so strong that we literally got sopping wet (including at Bridalveil Falls) from waves of billowing mist.
We were better able to see Upper Yosemite Fall from a meadow along Northside Drive.
Already in mid-May, there were tons of visitors, an ever-growing problem at Yosemite. We were surprised to learn that there never has been an enforced prohibition of automobile traffic in the valley, which I had heard about years ago and long assumed. Usage of the shuttles that loop through the valley was only highly recommended to ease traffic congestion. So, you can imagine the big parking problem that I had. I finally found a spot in a remote corner of the Valley visitor center parking lot. We parked and did the rest of the Village exploration on foot, walking as far as Yosemite Falls, before returning to the car on a shuttle.
We wanted to spend more time in Yosemite Valley, but it took two hours to get there from Lee Vining, and of course just as long to get back there where I booked accommodations.
Accommodation and Restaurant Tips: We stayed for two nights at Lake View Lodge in Lee Vining, which I would highly recommend to any traveler. These are not modern accommodations but they are comfortable and clean. Our room was a spacious unit, with two powder rooms. The main units are on the west side of the highway, but there are also some units on the other side that have a stunning view of the lake. The grounds have picnic tables and lawn chairs outside in large grassy areas for having a meal or relaxing. Next door (to the north) is a well stocked grocery store (Mono Market) with prepared food items (including breakfast burritos) and a good selection of wine and beer. Seemingly part of the property but independently operated is the newly opened (just three days when we arrived) Epic Café, operated by a couple who previously ran a catering business for ten years in Lee Vining. Ingredients are fresh and organic when possible, a welcome change from the other restaurants in town that serve standard road food. Our experience with the highly rated (Yelp, TripAdvisor) Whoa Nelli Deli, which also has an interesting menu, that is part of the Mobil gas station on Highway 120 just off 395 was disappointing. My advice is to eat at Epic.
Lee Vining to Susanville
Just thirteen miles off U.S. 395 is Bodie, a bona fide 'ghost town.' There was a time when things were booming in Bodie. After gold was discovered in the area in 1876, it grew to 5,000 people, 2,000 buildings (including 65 saloons) and a good-sized Chinatown. The boom didn't last too long as gold strikes in other parts of the country lured miners away. By the First World War, Bodie was essentially abandoned, except for a few hardy souls who decided to stay. It became a National Historic Landmark in 1961 and in the following year, became Bodie State Historic Park. Over 100 buildings remain that are preserved in a state of arrested decay, which means that buildings will be maintained only to the extent that they will not be allowed to collapse.
We made the drive to Bodie, thirteen miles over hilly, high desert scrubland, the last three of which was unpaved. The town is literally in the middle of nowhere.
When we arrived, it was cold outside, with a stiff wind lowering the chill factor. I later discovered that this is one of the coldest places in the U.S. when nighttime temperatures, even in summer, usually drop below freezing. Bodie is meant to be explored on your own with only a map to serve as a guide. We happened to arrive shortly before a park ranger gave an interesting history talk in front of the old church building.
The buildings are mostly scattered, ranging over 1,000 acres. Much of the town burned down in a fire in 1932. The remaining buildings are all boarded up, but you can peek inside through the windows to look at what was left behind.
This slideshow requires JavaScript.
Highway 395 crosses over into Nevada at the western edge of Topaz Lake, a big reservoir. Soon after cresting the Carson Range, we drove into the broad Carson Valley and into gaming country. We stopped in Gardnerville because my wife read about its Basque heritage—and it was lunchtime.
Restaurant tip: Popular for its very good Basque food (and generous portions) is J. T. Basque Bar & Dining Room. Not surprisingly, lamb figures prominently in the menu, which includes lamb shoulder steak (my order) and lamb chops. There is also a very good ox-tail stew. Family-style lunch and dinner are available.
This slideshow requires JavaScript.
In the bar are hundreds of folded dollar bills stuck to the ceiling with thumb tacks. The challenge is to throw a tacked dollar bill up with the aid of a silver dollar and get it to stick. If you succeed, you get a free drink.
Legendary Carson City lies just north of Gardnerville. Highway 395 goes right through its commercial district, which I wished we could have avoided. There was no time to visit Carson City or Reno before we had to get to Susanville for the night, but not before driving through a big snowstorm just before re-entering California.
Restaurant tip: The front desk of the motel in Susanville highly recommended Pioneer Saloon and Lassen Ale Works. We weren't very hungry after our big lunch in Gardnerville, but the clam chowder (served only on Fridays) was among the best I've tasted: big clam flavor, broth not too thick, sand-free clams, potatoes cut small. The caesar salad was also quite good. The spacious, fun tavern was packed with people who clearly agree with the motel clerk, drinking beers that are made on the premises and ordering dishes that looked darn good. Pioneer is worth another stop when we pass through Susanville again.
We ended our drive along U.S. 395 at Susanville, about 140 miles short of the Oregon border. Instead, we headed inland because we needed to get back home by the following day. What a wonderful, eye-opening trip is was for my wife and me, an epic road trip. It's too bad we had only seven days to spend. It would've been a blast to make it to 395's end, in Spokane, Washington.